The Big Build Begins…!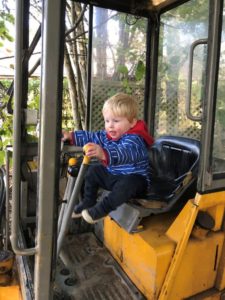 Helping Uncle Peter with the Build
Well it has finally begun, following 18 months of numerous designs, the dreaded planning system and plying dad full of red wine to persuade him to spend some money, we have finally started a project which is taking us completely into the unknown and my first major project at Breamish Valley Cottages.
Pete and Michele, over the last 25 years, have renovated/built 22 holiday cottages, 1 swimming pool, 2 tennis courts, an adventure playground, a games room and some stables. This side of the business has been some of the most rewarding , albeit the most stressful too. So its now my turn to get stuck into a project, I doubt Mum and Dad will be able to stop themselves getting involved, but then I think I'll need all the help I can get!
I think the apprehension from my parents has been more than justified and in the long run, I think I will appreciate that it has taken time to come to fruition. It has given me a long time to really think about the design and operation of the building. Its easy to throw ideas around in your head but the logistics of making them a reality is something different all together.
So what is it you maybe asking? Well the building is going in the trees parallel to the swimming pool. It will be a new venue to provide opportunities for our guests to enjoy cafe & eating facilities, fitness classes, parties, weddings and wine tastings to name a few. There will also be 3 letting rooms on the 1st floor which will provide luxurious accommodation for those who are unable to stay with us as long as required in the holiday cottages.
What next? Firstly we had to removed some trees from the site to make it possible to fit a building in there. Amazing how much bigger a space looks when it is empty. Dad has always been sentimental over his trees and was keen to save as many as possible and relocate them to another part of the site. Check out the photo (below) a throwback to when Dad built the swimming pool, the trees weren't very big then.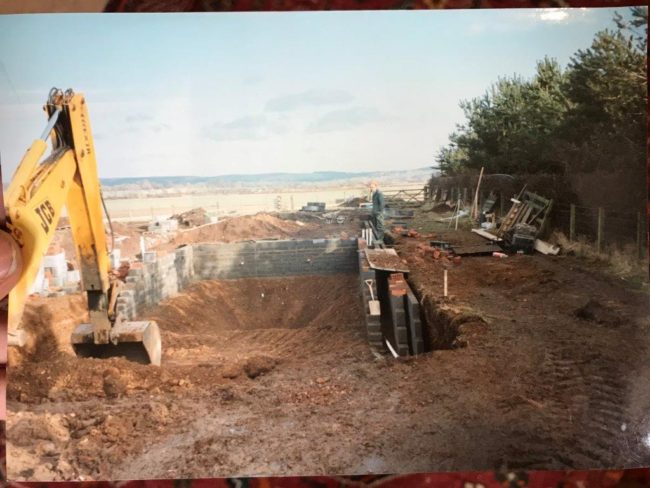 How do you move trees you may ask, well after a bit of trusty research on Google we got the team from Northumberland Woodland Burials to come help us out. With Scotts trusty tree spade, we managed move some of the biggest trees he has ever moved, Scott and his team were fantastic and took everything in their stride even when the ground conditions were pretty testing.
We managed to get 14 trees moved in total, lets hope they will take well in their new environment and continue to thrive in the coming years.
Dad and I got the glamorous job of relocating 2000L of heating oil so that we could move the oil tank, lovely job!!! We have then brought in the services of S Shell & Sons, now if you could ever pick a 'neighbour' these would be the ones to pick, from farming stock two Shell families farm over the river at Brandon, luckily they are more than game to turn their hand to anything and also have a trusty digger driver called Terry with his beloved JCB 3CX who has worked for them for over 50 years!!! They have been involved in nearly every single project we have undertaken, and we look forward to working with them again over the coming months. 
Cameron, son of Stephen now working with me (Peter) son of Peter, managed to get some much needed digger practice in, pulling out tree stumps, apparently Terry is an excellent digger driver, maybe not so good at teaching however…
So that's about all this week, apart from the usual boring meetings with builders and architects etc….next week the diggers get in for a proper play and hopefully we get going with the foundations. Chris Mccaan Builders are up next….call by next week to see what progress has been made!