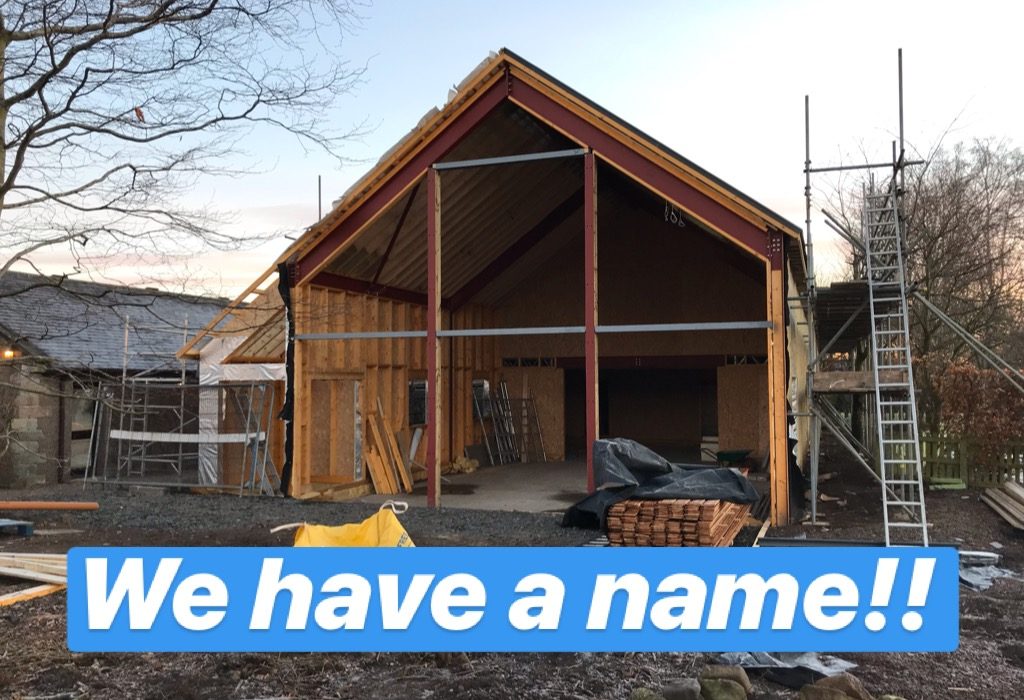 Wow how time flies, it has been a while since my last blog post, and lots has happened since. We had a busy Xmas and New Year here in the cottages, so Xmas decorations were everywhere. Imagine decorating 14 holiday cottages? I learnt for the first time just quite how much is involved after helping Mum out with them this year. Luckily wife Kim came and helped, she loves decorating though so I think I can see a job for her in the future.
Well the building went into slow motion just before Christmas, tradesmen don't like to start a job that they can't get finished and with us that was the first-floor flooring which we didn't want to risk being left to the elements over the festive break. So, we had all the flooring and all the roof trusses sat on site just teasing me with progress while I waited and watched for 2 weeks.
We are getting our windows from Express Bi-folding doors from Leeds, a family run business which has seemingly increased into an enormous company, good on them, they manufacture all of their windows in-house at their manufacturing facility in Leeds. The windows have got to be one of the most important factors to the building, the western gable which is all glass is hopefully going to provide a big feature for the building and some great views too. All the windows are aluminium which is new to us, but we are excited to see the finished result. They have been measured up twice and are now in production so fingers crossed before long they will be making the trip up north to get installed.
So since the roofers have finished the roof we have been able to crack on with the three B&B rooms, we are finalising the layout of the en-suites and trying to visualise how everything might look which to me is quite difficult so I have found myself marking out all the partitions upstairs to try and get an idea of how everything will look. The project is starting to get some traction and speeding up all the time, which means I need to get myself organised with the next set of tradesmen.
The New Year also brought about a big delivery of Siberian Larch cladding for the outside of the building. This is very much away from the norm for us, with all of our cottages being traditional sandstone construction, the idea of building with wooden cladding took a bit for Mum and Dad to get their heads around, and even once they did, the argument of what type, species, profile, direction followed thereafter. However, they have both bought into the vision that I have and so on the 7th January 1800 linear metres of Siberian cladding turned up for me to put my stamp on. I personally have never liked to watch brand new sawn timber weather and silver like it does when left naturally, I was also conscious that a whole building in Siberian Larch might look a little like a 'shed' (don't worry the local farmer has already asked if he can store some cows in it) so I needed to find a way to give the building some contrast. I would love to take the credit for the idea, but it came from a homebuilding and renovating magazine. There are lots of buildings that have fully charred black timber on their buildings called Shou Sugi Ban, I didn't want to go as extreme as that, but I did play around with some timber and a blow torch and really liked the effect that a light char created by bringing the grain out of the timber. Doing this on a large scale was going to involve a little bit of thinking or more importantly man power. With a few willing family members, I have charred all the timber and we have treated it with a UV Oil which will prevent the cladding from weathering and hopefully maintain its colour, check out some of the finished product to see what you think.
The windows are soon to arrive to be fitted so hopefully the next blog will include pictures of a
nearly finished outside with cladding in place and windows fitted. We are also getting into the normal arguments of how everything might look inside, after attending furniture shows and what feels like about a thousand different bathroom stores, we nearly have everything sorted. I'm keep tight lipped on that though, so you'll just have to come and visit to check it out.
Guess what? We now have a name too we hope to be greeting you soon at The Bosk @ Breamish Valley, where did that come from you may ask. Well, we wanted to find something that was original and little bit different so after much deliberating and many many many different ideas we came up with The Bosk, which basically means a small wooded area which is where the building has been situated and so we felt it was quite fitting.
Thanks for reading and keep a look out for more to come…..