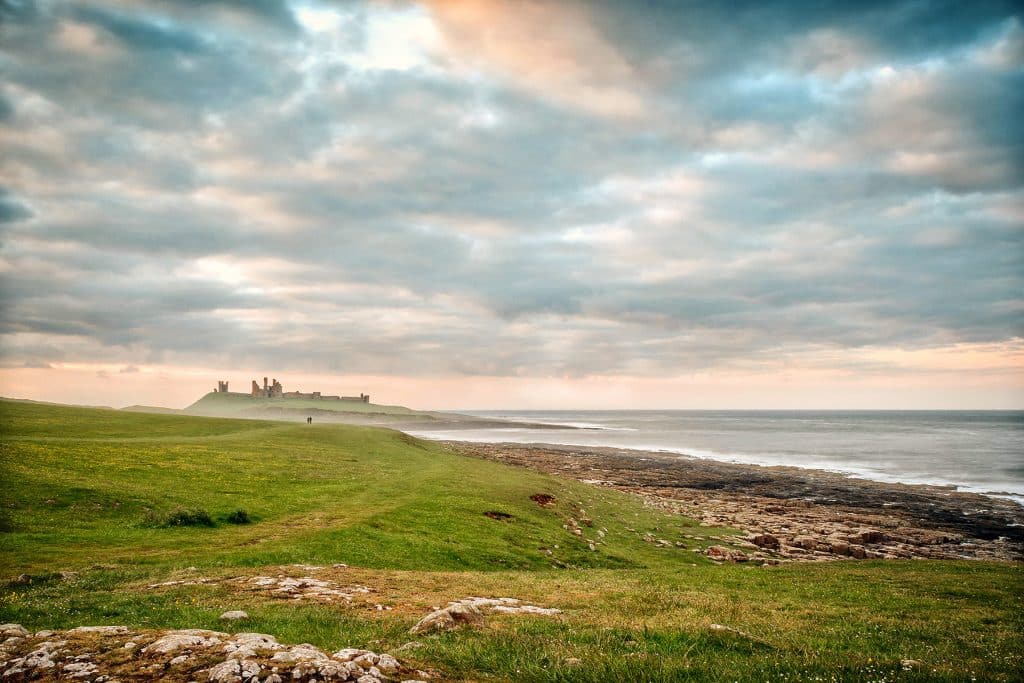 A very warm welcome to the Breamish Valley – our little corner of heaven here in Northumberland. A lot of our guests like to stay with us to escape the hustle and bustle of daily life. So we have put together this short guide on things to do while staying with us, all within easy reach.
Whilst you pretty much need a car to explore Northumberland, with its small country roads and stretches of coastline, you don't have to drive far to find yourself lost in rolling hills or stumbling upon a new favourite cafe.
Here you will find 7 things to do while staying in the Breamish Valley, so you can start planning your trip today.
1. Visit Wooler.
Described as being 'a walkers paradise', the market town of Wooler is just up the road from Breamish Valley and offers a mix of rural meets the bustling high street. Here you will find beautiful walks and your gateway to the Cheviot Hills, local pubs, cafes and small businesses.
There is a caravan site in Wooler which makes it a popular destination for holiday makers who really want to experience being out in the sticks in Northumberland.
From here you can drive to visit Britain's most haunted, historic castle: Chillingham Castle, lunch with Alpacas at Beirhope Farm or explore the borders with a drive up to Kelso (around half an hours drive from Wooler).
For fans of Whisky, you may want to discover Ad Gefrin English Whisky Distillery opening in Wooler in the Autumn of 2022.
2. Cragside National Trust.
A gorgeous National Trust property with extensive grounds covering over six miles of estate to explore. Cragside is located near Rothbury, use postcode NE65 7PX.
Visit the house, home to the late inventor Lord Armstrong and the first home to be powered by hydroelectricity. Wander through the formal gardens before driving up the Carriage Drive to explore the Labyrinth, adventure playground and lake side walks.
The Labyrinth in particular is a hit with the kids but can be quite boggy in places. We recommend bringing walking boots for this one.
There is a one way system in place along the Carriage Drive so keep your eyes peeled for the play area car park so you don't drive past. There is a cafe next to the main house but also a kiosk van selling drinks and ice cream in the play area car park next to Nelly's Moss lake.
3. Picnic at Ingram Valley.
Ingram is a little hamlet nestled in the Breamish Valley and offers space to cycle, hike and picnic.
It has become a popular spot with families or groups of people wanting to spend a day in the Valley, bringing deckchairs, picnics and nets for paddling in the streams. With beautiful waterfalls and breathtaking, unspoilt views, it is easy to see why it is such a popular choice for visitors.
There are public toilets and a cafe just as you enter Ingram. Drive a little further through to the Bulby's Wood car park (NE66 4LT) and park here to walk through the Valley. If the kids want to bring their bikes it is a good spot for a bike ride however it can get busy during the summer months so be wary of cars passing through.
4. Spend the day in Alnwick.
A popular choice with guests, the town of Alnwick is only a twenty minute drive away from the cottages.
Once you are in Alnwick, there are a few things we recommend doing. Parking is free with a parking disc which can be purchased from the tourist office or one of the dispenser machines in the car parks. Be sure to check which car park you have parked in as there is a mix of short and long stay.
If you fancy visiting the Alnwick Garden, you can use their own car park at a cost of £3 for the day. This is usually a good option if you are visiting during the busy months over the summer as the car parks in the town centre become very busy.
The Alnwick Garden is a great place to spend the day out. They often have special events over the school holidays so check the website before visiting to help plan your day out.
If you don't fancy the Gardens, why not pay a visit to Alnwick Castle? This is separate to the Alnwick Garden and tickets can be purchased via their website. Have a go at broomstick lessons, take on the Dragon's Quest or browse the rooms throughout the castle and learn about the town's history.
As an alternative, and free day out, head to Barter Books. One of the largest second hand bookshops in Britain. Here you will also find the Station Buffet offering a menu of hot and cold food served until 6pm.
5. Rothbury riverside walk.
The village of Rothbury is a twenty minute drive from Breamish Valley cottages and offers restaurants and pubs, cafes, independent shops including butchers and bakery, play park and a gorgeous riverside walk.
Parking is free and we recommend using the car park next to the river. This is accessed by driving over a small bridge and turning right. From here you can walk into the village centre or head along the riverside footpath which is a flat route suitable for pushchairs.
If you decide to bring a picnic along, there are plenty of picnic benches that sit alongside the river.
You could also extend your day by tying it in with a visit to Cragside National Trust (previously mentioned.)
6. Head up Simonside.
Recently voted one of the top walks to do in the UK (GoOutdoors 2022), the Simonside Hills provide 360 degree views across the Cheviot hills out to the north sea. Located in the Coquet valley up past Rothbury, you can be here in just over half an hour's drive.
Pack your walking boots, a picnic lunch and plenty of water and head out on an adventure, your reward being the breathtaking views across Northumberland.
To enjoy the best views, we recommend heading to the main car park (aim to get here earlier rather than later in the day as it gets quite busy). From here the route is clearly signposted, taking you on a 4.5 mile circular walk across the peaks of Simonside. The walk is described as being 'moderate' and is popular with dog walkers.
Simonside is the perfect place to partake in some wildlife spotting. Expect to see red grouse, curlews and even red squirrels.
Visit the Northumberland National Park website to find out more.
7. Craster Village and Harbour.
Another area of Northumberland that has been voted as a top location thanks to its pub: The Jolly Fisherman, is Craster. Located along the coast, this beautiful fishing village has found fame thanks to the Craster Kippers and is the access point for visiting Dunstanburgh Castle.
Use the main car park (no cars are allowed through the village except for access) which is located on the right hand side as you arrive. There are public toilets and a visitor centre here. Note that these are the only toilets so if you are planning on doing the walk to the Castle, we suggest visiting the toilets here first.
A visit to The Jolly Fisherman is a must, especially if you are a fan of freshly caught seafood and beer gardens with amazing views.
The walk to Dunstanburgh Castle is an easy one and great to do with kids. It is around a mile to the castle, along the coastline and a mile back. Don't worry, you can't get lost as the path is super easy to follow and is a great way to cover some of the coastal route.
Hopefully this has given you some inspiration for planning a trip out during your stay with us in the Breamish Valley. We hope you will agree that Northumberland has a lot on offer whether you are looking for an adventure holiday or something slower paced.
Any questions? Send us an email and we will be happy to help.